Science4Us.com
is a complete online interactive standards-based early elementary science curriculum grades K-2. Members of the Schoolhouse Review Crew received a six-month membership to the Science4Us.com Online Subscription.
Science4Us.com provides foundational science skills that engage children as well as increase parents' comfort level and commitment to teaching science. Although Modules are online, Science4Us.com recognizes that hands-on activities are essential for learning science and includes hands-on projects and investigations.
With Science4Us.com each child is assigned their own account and log-in information, and the parent has a parent/teacher account in which they can assign specific Modules, view their children's progress on Assignments as well as any saved work and grades on specific projects.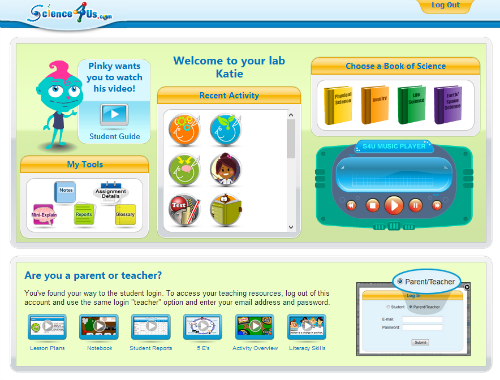 Additional features include:
For the Students
Animated lessons
Simulations and games
Lesson plans
Songs
Offline hands-on activities
Evaluates
For the Parents/Teachers
Extensive lesson plans
Professional development videos that provide in the moment opportunities to review content, best teaching practices, and common student misconceptions.
Science4Us.com offers an easy to navigate interface that allows children to see and follow their assignments as well as providing them with video tutorials as well. Upon completion of a lesson it marks a star on that lesson so they will know which lessons have been completed and where they need to begin next. Assignments can be set to have specific start dates and end dates or set to end whenever the work is completed. Students may also complete Modules and Activities freely that aren't assigned if that is preferred.
Science4US.com covers main topics like Science Inquiry, Earth/Space Science, Life Science, and Physical Science as well as multiple sub-topics.
Click on the banner below to read the Crew Reviews!
A big thank you to Emilee of Pea of Sweetness for writing this introductory post.