Beginning Nov 5, 25+ members of the Schoolhouse Review Crew will be blazing the way into the Thanksgiving and Christmas holidays with a 5 Days of Preparing for the Holidays Blog Hop, and we would love for YOU to come and join us!
Who doesn't love this time of year? From Thanksgiving turkey to Advent and Christmas traditions, the holidays brings along multiple opportunities for learning, family time, and giving to others. Many of you will be blogging about your plans and activities, so we invite you to come share by linking up with us.
Everyone is welcome to link up with this
Blog Hop.
We would love to have you! 
Monday: Decorating — Share your ideas for how you decorate your home for the holidays.
Tuesday: Cooking — Do you have a special menu, recipes handed down for generations, or a day you spend just baking?
Wednesday: Gift-giving — What are traditions for giving gifts? Are they home made? Maybe you have some great shopping tips to share!
Thursday: Arts & Crafts — Thanksgiving and Christmas lend themselves to some terrific craft ideas. Tell us yours!
Friday: Homeschooling — How do you handle homeschooling during the holidays? Do you have specific lessons you teach?
This is a lovely time of year to share your heart with your own readers and many others who will be thrilled you did. I am excited to read all of your blogs!
So mark your calendar, start getting those ideas together and come and join us, beginning November 5.
Blog Hop Rules 
 (we do reserve the right to remove your link if you do not follow these rules)
1. There will be a new linky each day. To add your link, click the button that reads "Add your link" at the bottom of each post.
2. Please link the URL to your specific blog post, not your main blog URL.  For example:
Incorrect: http://www.schoolhousereviewcrew.com
Correct: http://www.schoolhousereviewcrew.com/preparingfortheholidays
3. Grab our Blog Hop Button and place it within your post or on your sidebar.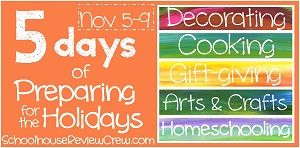 Join these lovely Crew members: 
Marcy @ Ben and Me
Heather @ Only Passionate Curiosity
Christine @ Our Homeschool Reviews
Jennifer @ A Glimpse of Our Life
Camille @ Growing Up Gabel
Kristi @ The Potter's Hand Academy
Laura @ Day by Day in Our World 
Jessica @ Modest Mama 
Cariann @ Unionvale Homeschool 
Amy @ Bow of Bronze
Karyn @ Teach Beside Me
Shalynne @ Wonderfully Chaotic
Lora @ My Blessed Life
Sara @ Embracing Destiny
Jennifer @ Fresh Start Academy Homeschool
Aurie Good @ Our Good Life
Kym @ Homeschool Coffee Break 
Nicole @Mama of Many Blessings
Sarah @ Ahoy Maties!!
Brandy @ Kingdom Academy
Tracey @ A Learning Journey
Julie @ Creatin' Classical Chaos
Marisa @ Lighthouse Classical Academy
Wendy @ Life at Rossmont
Diana @ Homeschool Review
Tess @ Circling Through This Life