This article is in collaboration with North Star Games.
For the second year in a row, TOS is privileged to review Wits & Wagers Family, the family edition of "the most award-winning party game in history." Produced by North Star Games, makers of "games with personality", Wits & Wagers Family is fun, innovative, and easy to play with three or more people, ages eight and up.
To play, everyone writes down a "best guess" answer to one of the 300 family-friendly trivia questions. The guesses are displayed and everyone chooses the guess he thinks is correct or closest to the correct answer. Points are awarded both for writing the winning guess and for choosing the winning guess from among the other guesses.
One of the favorite features of the game for both old and young alike are the Meeples, distinctive people-shaped tokens which are used to indicate one's choice of guesses.
Available both online and from a variety of national retailers, the game comes with a deck of question cards, a score board, five answer boards, a set of dry erase markers, and five pairs of Meeples. Price may vary according to retailer.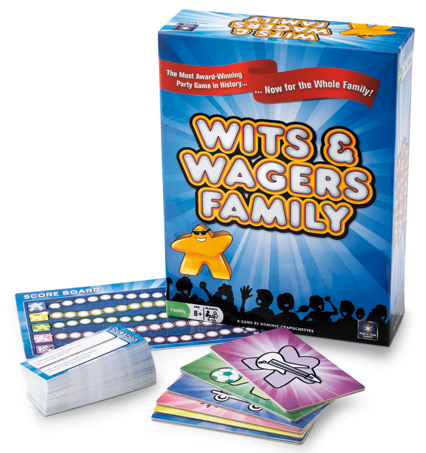 Powered by Linky Tools
Click here to enter your link and view this Linky Tools list…
Thanks to Crew Member Loretta from Books 'n Other Stuff for writing this post.