This article is in collaboration with Bower Books.
Husband and Wife team, Gary and Jan Bower produce lovely illustrations and poetic words for their books. The Person I Marry is a hardcover 32-page book for all ages. Young people are reminded just what type of person one should marry – one with a beautiful inside. Gary shares qualities which create strong marriages in a way all ages can understand. The book tells the reader,
"The vows I'll say I mean to keep,
So I'll look hard before I leap."
Mother to twelve children, Jan uses her own children and grandchildren as models of paintings reminiscent of Norman Rockwell. Various shades of complexion are represented in the gorgeous oil-color illustrations. Gary writes the poetry which touches at your heart.
Gary and Jan's other books include Tessa's Treasures in the four-book "Thinking of Others' series, The Jingle in My Pocket in the five-book "Bright Futures" series, Mommy Love and Daddy Love board books, Over Land and Sea about international adoption, and a Michigan Kid series. Illustrations and descriptions of many books can be found at the Bower Books website. Posters with an illustration, character trait, and short poem can also be purchased from Bower Books.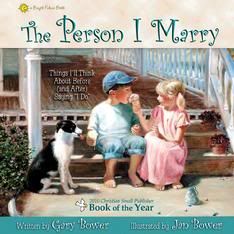 The Crewmembers received an e-book version of The Person I Marry which received the 2010 Christian Small Publisher Association Book of the Year award.
Visit the reviews of Crew members to see what they thought of The Person I Marry.
Powered by Linky Tools
Click here to enter your link and view this Linky Tools list…
Special thanks to Kimberly of Train Up a Child for writing this article.