This article is in collaboration with Heirloom Audio Productions.
Heirloom Audio Productions has brought us back in time to when pagan England is being invaded by Christian Rome. The clash, the struggle, the emotion- it is all brought to life in the audio drama Beric The Briton.
This lively historical story is based on the G.A. Henty novel of the same name and is part of the Heirloom Audio series titled "The Extraordinary Adventures of G.A. Henty." Each of these stories are rooted in history and focus on good people doing difficult things during difficult times. Beric is one of those. Rome was conquering the world and Beric takes on that powerful government.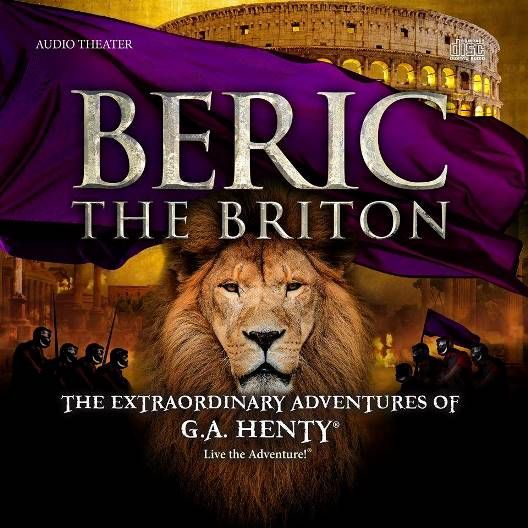 Beric the Briton comes as a 2-CD set of high-quality audio drama. This is over 2 hours of listening adventures. With it comes access to a digital, downloadable eStudy Guide. This guide is keyed to the tracks on the CD to assist in reviewing and completing the comprehension and discussion questions. It is full of helps, activities, and Bible studies to supplement your listening. The 2-CD set also comes with an mp3 version of the soundtrack, composed by John Campbell, and a printable poster of the quote by Julius in the production: "I will gladly die for him who died for me."
Members of the Review Crew who received Beric the Briton received the CDs, the eStudy Guide, the printable poster, and the mp3 version of the soundtrack. They also received a downloadable behind-the-scenes video, an ebook of the G.A. Henty novel, mp3 versions of the production, and a cast poster.
Heirloom Audio is beloved by all – from youngsters to grandparents – because of the excitement and adventure. Exciting stories partnered with thoroughly-researched history used to illustrate Christian values and eternal truths bring this story to life and make it unforgettable.
Join an all-star cast in this story, including Brian Blessed, Brian Cox, Tom Baker, Honeysuckle Weeks, Cathy Sara, and John Rhys-Davies.
Find Heirloom Audio Productions on social media:
Beric The Briton Facebook Page
The Extraordinary Adventures of G.A. Henty series Facebook page
Heirloom Audio Productions Facebook Page
Instagram: @HeirloomAudioOffici
—oOo—
A big thank you to Lori of At Home: where life happens for writing this introductory article.