This article is in collaboration with Apologia Educational Ministries.
The Beginning of knowledge is the fear of the Lord. (proverbs 1:7)
Television, radio, the internet, songs, books, and movies are only some examples of how we are exposed daily to information and conflicting messages. Our children are also exposed to many of these ideas. Ideas about truth, morality, beauty, faith and more. Not all of these ideas are correct and some are even destructive. As parents, we are given an important job of teaching our children about the Truth of God and how to discern that truth.
Apologia Educational Ministries www.apologia.com has partnered with Summit Ministries and created the "What We Believe Series". Members of the TOS Homeschool Review Crew were sent the first book in the "What We Believe" series titled "Who Is God? (And Can I Really Know Him?)". This  beautiful hardbound book is 252 pages and recommended for children ages 6-14. It costs $39.00 and offers a link to additional lesson plans and resources to expand the study.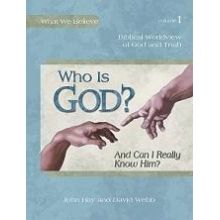 According to the company, the purpose of the "What we Believe" series is to help children learn to discern the truth by using God's Word as a lens through which to view the world around them. It is a student-directed, non- denominational specific, Bible-based curriculum. The study uses engaging stories, note booking and fun activities to teach the child in an exciting and memorable way. The first book Who Is God? introduces the concept of worldview while laying the foundational truths upon which the Christian worldview is built: God is Truth and He reveals truth to people.
The book contains 10 lessons and the user is able to customize the amount of time spent on each lesson. On average, each lesson takes about 2 weeks to complete. Each lesson contains several key components:
1-The Big Idea: this is an introduction to the main topic of the lesson.
2-What you will do: this is the learning objectives for the lesson.
3- Short Story: includes characters that are around the same age as your children. Gives a glimpse of the characters with differing world views. The characters work thorough their differences by seeking council through the bible and their parents. This method allows the student to see what a worldview looks like in action.
4- think About It: questions for your children to check for understanding and allows for great talking points.
5- What You Need To Know: Vocabulary words and definitions that students write in their notebooks.
6- Hide it in your heart: Two specific Bible verses to be written in your child's notebook and memorized.
7-Integrated Learning: interesting articles related to the main text  in the field of science, art, math history and more.
8- What Should I do?- Addresses a specific character trait that should be demonstrated in light of their new knowledge of God.
9-Prayer: The main body ends with a prayer to be adapted by your family.
10-Worldview Study- teaches children how to communicate with others of the hope that is within us as Christians.
11-House of Truth- a hands on memory aid, the House of Truth is a visual model constructed one step at a time.
The Lessons cover topics such as:  How can I know what's true?; What is God like?; If God Created the world, why isn't it perfect?; Is Jesus the only way to God? and many more excellent lessons.
Special thanks to First Mate Katie from Camp Corbett for writing this introductory article.