Recently, the Schoolhouse Review Crew was given the opportunity to review math software from A+ TutorSoft, Inc. Crew members received either a year's subscription to A+ Interactive MATH — either the online homeschool edition or a grade level curriculum CD.

A+ Interactive MATH is a multi-sensory interactive math curriculum for grades 1-6, plus Pre-Algebra and Algebra, although the Crew only reviewed grades 1-4. Both the online and CD versions of the program come with recommended lesson plans, a curriculum guide, a printable workbook, multimedia lessons, interactive questions and answers, a solutions guide, exams and exam solutions, and formula reference sheets. The online program further offers instant online grading and real-time feedback.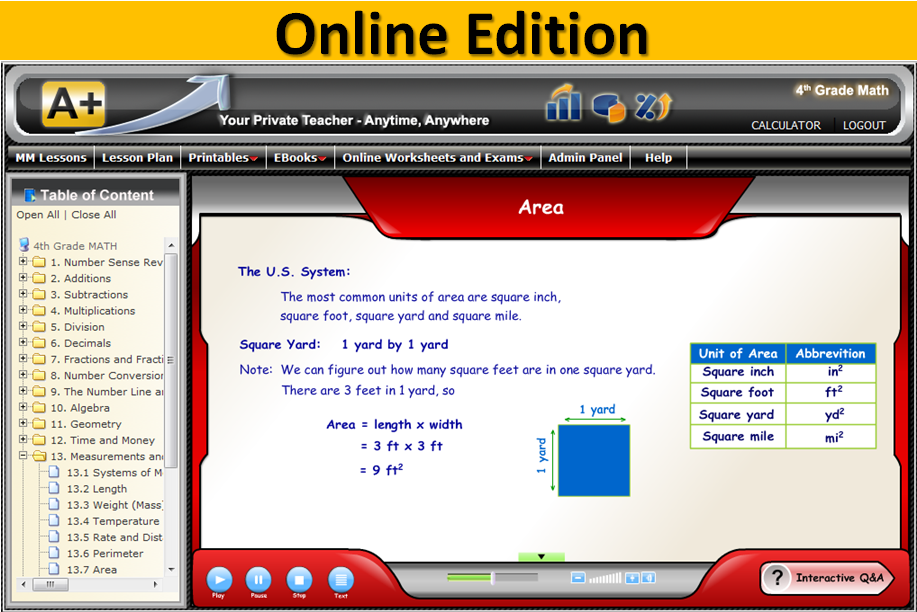 A+ Interactive MATH CD products are available as standard or premium editions. The standard editions come with everything stated above. The premium editions come with the added features of being able to track student progress, set academic start dates, and hide/unhide solution guides. The grade level CDs cost $99.99 per grade for the standard edition or $124.99 for the premium edition. With the premium edition CD you can track the individual progress of up to five students in one grade.
The online homeschool edition of A+ Interactive MATH is available monthly for $19.95 per month, quarterly for $49.99 per quarter, or yearly for $124.99 per year. The subscription covers one parent and one student.
A big thank you to Laura Delgado of My (re)Viewpoint for writing this introductory post.