Schoolside Press is the publisher of The Little Man in the Map.  I have been hearing about this  book for some time, but never actually got to see it.  UNTIL NOW, that is!  The Little Man in the Map is a beautiful hardbound book that will help your children learn US geography in very little time.  I've never seen a book quite like it.  I love books for children that are set to rhyming verse; so The Little Man in the Map was not a disappointment.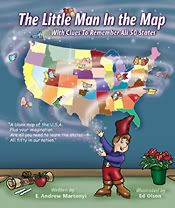 Each member of the Homeschool Crew (including alternates) received a copy of The Little Man in the Map, so I won't bore you all with my assessment of the book.  Instead, we'll let the Crew share their thoughts with you……
Penny says: My 11-year-old raced through the book the day it arrived, smiling and giggling all the way through it, turning the book so that I could see illustrations she thought were especially clever.
Zindra says: This is a book that I will continue to use with my children because it is a fun, painless way to learn US geography! It is a fantastic book that is superbly illustrated.
RegeniaS says: I love that it is in picture book format, taking just minutes to read and enabling older kids to use it as a tool for memorization. It is a book which when read over and over can only enrich your education of US geography in a delight filled way.
Also, feel free to drop by Schoolside Press's website where you can download some great coloring pages based on The Little Man in the Map.  And, for even more fun, check out the author's blog – Frogs Jump USA.