Several Crew members will be sharing their thoughts on the latest planner module – this one for December – entitled Let's Be Scientists!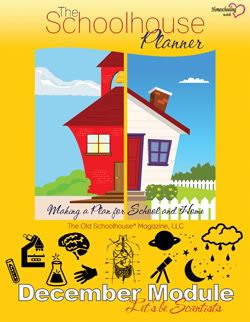 Do you ever have days when your children want to know everything about everything? Don't just send them to the encyclopedia; this E-Book will allow you to answer the questions that your children ask about the world around them.
Have fun with your children while learning real science!
Order now to learn:
How to make ice cream in a baggie
The five "states" of matter
How to make your own weather chart
The systems of the human body
How to create your own "gross garden"
What "oobligook" is
How you can help to take care of the wonderful world God has given us by reducing trash, reusing what you can and recycling anything else
The science behind tasting your favorite food
You can't beat this price!  For only $7.95 you'll receive:
A study guide that will introduce your child to a wide array of science topics, including

meteorology,

grossology,

biology,

chemistry and more

Coloring pages created exclusively in this module

Activity pages to help reinforce all the lessons learned in the E-Book

These include quizzes and worksheets to test retention, plus a word search and more

Answer keys for all of the activity pages

Original copywork pages

Delicious recipes that your family will love

Resource pages and web links to expand your knowledge
Meredith says: "Is there anything that The Old Schoolhouse® Magazine publishes that isn't excellent? From their magazine to their books and from their e-newsletters to their Schoolhouse Planner, everything is practical and motivational. This new module, Schoolhouse Planner December Module: Let's Be Scientists! is no exception! Although it is a supplement to the Schoolhouse Planner, it is really an e-book on teaching science to your family with creativity!
Brenda says: "I love how this module is laid out. It is impressive with the mix of information and the activities that are encouraged. Science concepts are expertly intertwined with fun activities. Your kids will be begging for more! And you will be the "cool" mom once again."
Kimberly says: "All of these modules are put together so well and are just plain fun! Being able to teach a little unit is so easy because they have done all the "searching" legwork for you."
Here's what the rest of the Crew has to say: