Core Learning Ltd. is an educational publisher of software, books, multi-curricular projects and on-line learning applications. Core Learning's mission is to provide effective learning solutions for the development of fundamental knowledge and skills. Its primary focus of skill development is in areas that both support higher order thinking but also provide important life skills.
In addition to receiving some time-sensitive demos of some of Core Learning's most popular resources (math & language arts, art & creativity, and health), the Homeschool Crew will also be receiving one of their newest products, Crayola Art Studio. Crayola Art Studio is an easy to use digital draw and paint program, developed for Core Learning's award-winning corefx creativity software.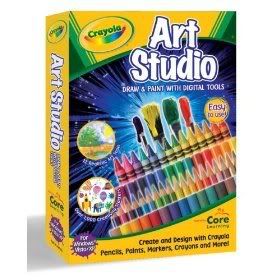 Tina B says: Once you start playing on the Art Studio Level, you will be amazed. It is a ton of fun. My kids ask daily to play and create with it.

Merdith says: This is an AWESOME program! We have had so much fun drawing pictures and painting "stained glass".

Heather R says: I love art and my children have inherited my interest. This was an item we actually fought over turns for. It's a blast!
The Crew will be sharing their thoughts on this program, along with the sample software that they have received. Be sure to stop back and see what they have to say.