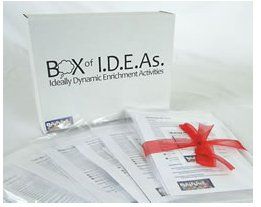 "Box of IDEAs is a company dedicated to creating delightful interactive learning modules centered around random subject areas. Explorers will be irresistibly drawn into critical thinking & knowledge building activities through an amazing variety of fun topics."
A Box of I.D.E.As. (Ideally Dynamic Enrichment Activities) contains ten or more modules that supplement learning on a given subject or provide an interesting journey into usual topics.

 

Each module contains quick, fun activities that allow your student to delve deeper into the subject being explored.

 

At the end of the Box, a student will have created a small portfolio of projects representing what he/she has learned.

 

Additional links are provided with each module for further exploration.

 

An SAT style test is included for each Box to ensure the student gained the knowledge expected.
Modules can be taken and used anywhere: in the car, at the doctor's office, waiting for a sibling to finish an activity, etc.

 
Topics reviewed by the Crew include World War Two: Pearl Harbor in PDF and Print, and Salt in PDF and Print.

 

Additional subjects offered include Eleven, Quilting and Laundry with many more coming soon.

 

PDF versions cost $49.00 while a physical box costs $79.00.

 

Extra modules can be ordered for $4.00.
Box of I.D.E.As. can be used for students of multiple ages allowing a homeschooling parent the opportunity to engage all of her students at once.

 

The age range recommended is 9-16.
A big thank you to April B of Eclectic Montage for writing this introductory post.