Earlier this year, the Crew had the opportunity to review some Noah's Ark products by Alphabet Alley. You can see those reviews here. You can learn more about Alphabet Alley – including the story behind their company and a list of retailers who carry their products – by visiting their website.
Alphabet Alley has shipped another of their great products to the Crew for review. This time, they are providing us with the Our New Baby Magnetic Playset.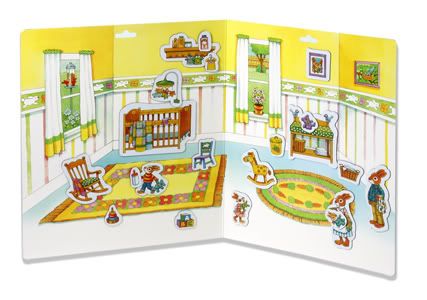 I have not seen this particular magnetic playset, but I have seen other magnetic playsets from Alphabet Alley. They are lots of fun for little ones to play with! They remind me much of the Colorforms that I so enjoyed when I was little, but they are much more durable and will definitely withstand more play (even the rough play that my 2-year-old son is famous for!) He very much enjoys playing with the Days of Creation magnetic set that we received earlier.
EDITED 3/11/09 – These great magnetic playsets are no longer available from Alphabet Alley. This is a company that is dedicated to provided products of the highest quality and standards; and, because of that, they have pulled these magnetic playsets from their product line to determine whether or not they meet the new standards set by the U.S. government. In the meantime, please visit their website and see what they DO have available – you won't be disappointed!
Here is what the Crew (and their little ones) have to say about Alphabet Alley: